Superannuation Contributions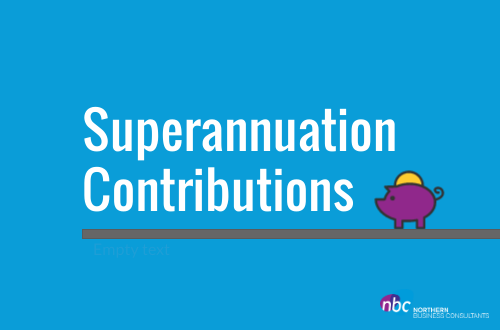 Contributions
Concessional (tax deductible) superannuation contributions can be claimed as a personal tax deduction or are tax deductable to the employer entity making the payment. Please note, the concessional contribution caps include any salary sacrifice amounts, Super Guarantee, any insurance premiums or other expenses made on behalf of the fund and are a per member basis and not per fund.
The relevant concessional superannuation contributions cap for all ages up to 74 years is $25,000. Please note, members aged between 65 and 75 years must satisfy the 'work test' during the financial year to be eligible to contribute. The 'work test' requires you to have been gainfully employed' for at least 40 hours in a 30 day consecutive period.
Non-concessional superannuation contributions: Are you looking at transferring any of your after-tax savings, listed investments, or even business real property from your personal name(s) or other tax entities? If so (in conjunction with your Financial Planner), if you are under the age of 65, you have an annual maximum cap limited for the 2020 financial year of $100,000. Alternatively, you can trigger the 'bring forward' rule and utilise three times this cap or $300,000. This can bring immediate and significant future tax benefits. If you are 65 and over, to make this contribution, you will have to have satisfied the 'work test' during the financial year and prior to making the contribution. The 'work test' requires you to have been gainfully employed' for at least 40 hours in a 30 day consecutive period.
Unused concessional superannuation contributions – Carry Forward: From 1 July 2018, if your total superannuation balance is less than $500,000 on 30 June of the previous financial year, you may be able to contribute concessional superannuation contributions above the cap of $25,000 for any unused amounts. The first year you will be able to utilise the carry forward unused amount is the 2020 financial year. You can carry forward unused concessional superannuation contributions for a maximum of five years.
Timing of contributions: If you wish to maximise your contributions prior to year-end make sure that you allow plenty of time for the fund to receive the contributions, otherwise the ATO may classify them as being received in the next financial year.
Government co-contributions: Have you made after tax contributions to your fund? Determine whether you are eligible for the government co-contribution payment. The ATO has an easy to use calculator. This will allow you to quickly determine your eligibility. You don't need to apply for the co-contribution payment. If you are eligible and your fund has a TFN, the amount will be paid automatically.
Spouse contribution: If you have a spouse with a total superannuation balance of less than $1.6 million and assessable income plus reportable fringe benefits of less than $40,000 then consider making a spouse contribution. You may be entitled to a tax offset of a maximum value of $540. The contributions must be after tax contributions, you are both Australian residents at the time of contribution and your spouse must be under age 65, or between 65 to 74 years and have met the 'work test' (i.e. worked at least 40 hours within 30 consecutive days) during the financial year and before the contribution is made. There are no work, age or income conditions applicable to you as the contributing spouse.
Low income super tax offset: Do you earn less than $37,000? Have you or your employer made concessional contributions to your fund prior to 30 June 2018? You may be entitled to a refund of the 15% contributions tax of up to $500 paid by your fund. This refund is paid directly into your super fund by the Tax Office.
If you have any questions about getting the most out of your tax return, give us a call on 3862 8777. We're here to help!