Recording the Cash Flow boost in Accounting Systems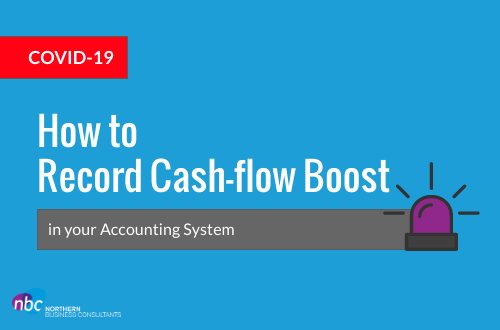 HOW TO RECORD THE CASH-FLOW BOOST IN YOUR ACCOUNTING SYSTEM
March BAS lodgements will see the first credits and/or cash received for the cash-flow stimulus measures legislated by the Federal Government in relation to COVID-19. These measures reduce the amount of PAYG Withheld (PAYGW) and payable to the ATO. They do not have any effect on GST or PAYG/Income Tax Instalments payable. Eligible businesses may have further Cash-Flow Boosts in subsequent BAS's and IAS's.
For income tax purposes, the Cash-Flow Boost is non-assessable, non-exempt (NANE) income. There may be certain income tax implications for this and will be later advised by the ATO that we as Accountants will attend to at year-end.
As the cash-flow boost doesn't form part of ordinary business income, it may be inappropriate and give a false picture of how the business is "running" if it's included as ordinary income.
Our approach would be to include the amount of the Cash-Flow Boost as Other Income below the businesses' normal operating profit line, so we don't lose track of it and it's easily identified at year-end.
The Cashflow Boost should be recorded as GST exempt and BAS excluded.
The journal entry required to reconcile an entities ATO activity statement account in the client's accounting records relating to the Cash-Flow Boost where a credit arises and offsets the PAYG withheld would be:
DR: BAS account  $XXXX (this reduces the PAYGW component in the BAS liability)
CR "Cash-flow Boost" (Other income)
$XXXX (this records the NANE income)
When accounting for the ATO's cash deposit of the Cash-Flow boost, the account to post the bank deposit to would be:
"Cash-Flow Boost" (other income).
Should you have any queries regarding this, please contact your usual NBC representative for further assistance.